Caring for all of your animals, at all times.
COVID-19 (coronavirus): Information for our clients - click here
We Are Accredited by the RCVS
Find out what that means for you and your animals
About the Practice Standards Scheme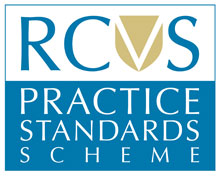 Pets are often treated as members of the family and owners rightly want to be sure they receive excellent medical treatment.
Horse owners and farmers also want to ensure their animals are receiving the best possible veterinary care.
But how can you be sure?
The regulatory function of the RCVS means that users of veterinary services can be assured that their veterinary surgeon or registered/listed veterinary nurse is properly qualified and fit to practise.
The RCVS can also offer reassurance that those practice premises which it accredits as part of the Practice Standards Scheme meet stringent standards.
What is the Practice Standards Scheme?
The RCVS Practice Standards Scheme (PSS) is a voluntary initiative to accredit veterinary practices in the UK. Through setting standards and carrying out regular inspections, the Scheme aims to promote and maintain the highest standards of veterinary care.
It offers peace of mind to clients of accredited practices and a more informed choice to the animal-owning public.
To become accredited, practices volunteer for rigorous inspection every four years and will have met a range of minimum standards including hygiene, 24-hour emergency cover, staff training, certain types of equipment and cost estimation procedures.
Practices are also subject to spot-checks between inspections.
RCVS accreditation is not to be confused with a practice being included in the RCVS Register of Veterinary Practice Premises (RVPP).
The RVPP is held by the RCVS on behalf of the Veterinary Medicines Directorate, and only veterinary surgeons working from registered premises can supply veterinary medicines.
For more information on the RVPP, visit the Register of Veterinary Practice Premises section on the main RCVS website. (Please note that this link will open in a new window.)
Look for the logo
For peace of mind, people should look for the RCVS accredited practice logo, which indicates that the practice has passed an independent inspection.
This means high standards of care for animals and peace of mind for animal owners.
We have recently updated the logo, so you may see either of the two shown below in your practice.
---
Forest House Veterinary Surgery is accredited as an RCVS General Practice
These practices may be accredited for small animals, farm animals or equine patients, or as an Emergency Service Clinic, or as a combination of these.
To be accredited as an RCVS General Practice, a veterinary practice must satisfy the Core Standards, plus, amongst other things, must:
Have a system for monitoring the outcome of treatments
Show ongoing commitment to education and training of staff
Keep premises clean and well maintained
Have a policy for communicating with clients and looking at feedback
Have access to laboratory facilities for diagnostic testing
---
Copyright 2014.Forest House Vets Ltd. All Rights Reserved.